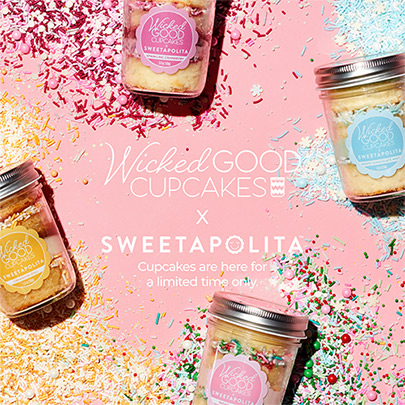 Limited-Edition Gourmet Holiday Cupcakes
This collection of cupcakes with sprinkles is perfect for the holidays! These decadent cupcake jars feature all the best flavors of the season and are great for holiday hostess gifts or stocking stuffer treats. Treat yourself or the sweet tooth on your gift list to limited-edition cupcakes in fun flavors.
Fresh and sparkling like snow, our Peppermint White Chocolate cupcakes are made with buttermilk cake and subtly minty white chocolate frosting for an indulgent winter treat. And for a festive, fun twist on a holiday cranberry cupcake, our Sparkling Cranberry features Champagne cake, cranberry compote, and an irresistible cranberry vanilla buttercream.
Holiday baking enthusiasts will love the Sugar Cookie cupcakes, crafted with delicious vanilla bean cake and almond buttercream frosting. And, our Cinnamon Roll cupcakes taste just like Christmas morning with buttermilk cake and brown sugar cinnamon caramel—no need to preheat the oven!
About Sweetapolita
Sweetapolita is a Canadian, women-owned premium and playful baking brand, founded by baker Rosie Alyea in her kitchen in 2015. With a primary focus on the magical world of sprinkles, their mission is to inspire food lovers and bakers of all levels, offering them the tools to make dessert-making as approachable and limitless as possible.
Make your decorated cupcakes extra fun with Sweetapolita! For sprinkles, recipes, and baking inspiration, check out Sweetapolita.com.
Page does not contain any content.