Holiday Celebrations
Whether you're having an office holiday party or wishing your clients the best this season, a decadent treat with a custom lid label will make your business stand out.
Employee Appreciation
Celebrating employees has never been sweeter! Thank your team for their hard work with a treat they'll love.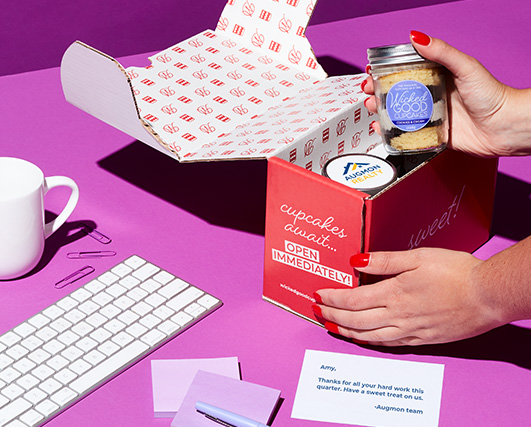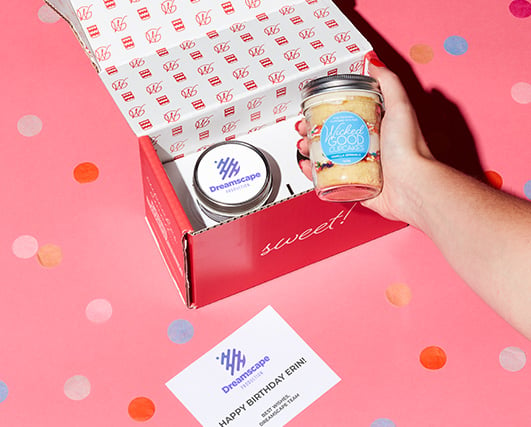 Birthdays & Anniversaries
Don't let your employees' special day go uncelebrated. Birthdays and service anniversaries call for a cupcakes!
Milestones
Celebrate retirements, promotions, and new hires with a cupcake order featuring a customizable lid label.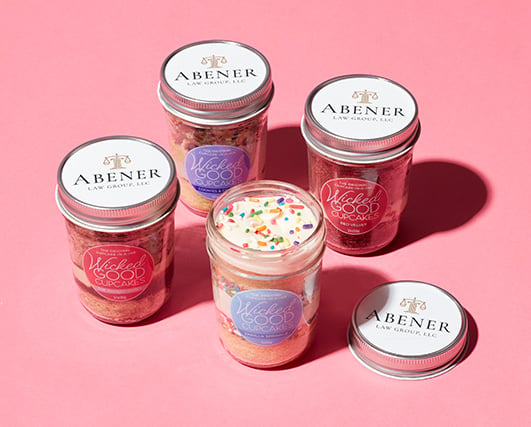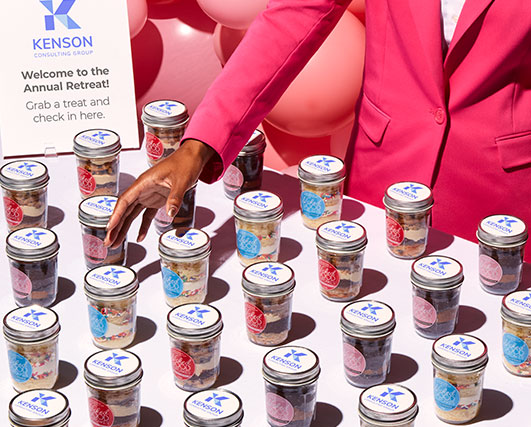 Corporate Events
Cupcake jars are the perfect grab-and-go treat for company parties, trade shows, business meetings, retreats, leadership events, and more.
Lead Generation & Prospecting
Stand out to potential customers and clients with a uniquely delicious cupcake in a jar featuring your company's logo!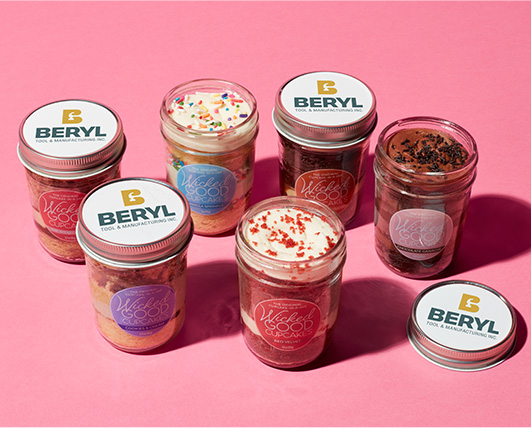 Connect with our cupcake coordinators
We're here to make every step of customizing and ordering your cupcakes stress-free. Customization costs are as low as $.50 per label. To get a personalized quote, contact us at 617.209.1039 or customerservice@wickedgoodcupcakes.com.
CUSTOMIZABLE LID DESIGNS
Add a personal touch with a custom lid label! Check out our design templates for holidays and events, and personalize with your names, date, logos, and colors. Our Cupcake Coordinators can help bring your vision to life!
Customized Corporate Gifts for Clients
Treat your best clients to unique corporate gifts that are perfect for every business occasion. If you're shopping for Christmas gifts for clients, customer appreciation gifts, or holiday gifts for customers, our custom corporate gifts are sure to impress.
Cupcake jars are unique and delicious, with many different flavors to choose from so you're sure to find perfect client appreciation gifts for all the people who matter most to your business. Wish your clients the best during the holiday season with a cupcake delivery right to their door! Or, welcome them to a business meeting or event with a grab-and-go treat they'll love. Wicked Good Cupcakes makes finding gifts for clients and customers easy.
We can even add a custom lid label to your jars for a personal touch. Personalized gifts for clients are a great way to keep your business top of mind! Your business will stand out when you include customized lids or cards with your company's logo or message with your gift.
Unique Gifts for Employees
Celebrate your team with employee appreciation gifts, work anniversary gifts, employee birthday gifts, and more! Every occasion is even sweeter with a delicious cupcake jar. Cupcake jars also make the perfect gifts for employees at holiday parties, events, and meetings. A gift to celebrate anniversaries, milestones, and achievements is also a great way to bring employee recognition front and center, and boost morale.
Show your team some love with a cupcake gift for Employee Appreciation Day. Or, cupcakes make a great Christmas gift for employees, whether you're celebrating at the office holiday party or sending a gift right to their door. Your custom employee gifts can even include a customized lid label or note in your delivery.
With Wicked Good Cupcakes, business gifting has never been more fun!
Page does not contain any content.