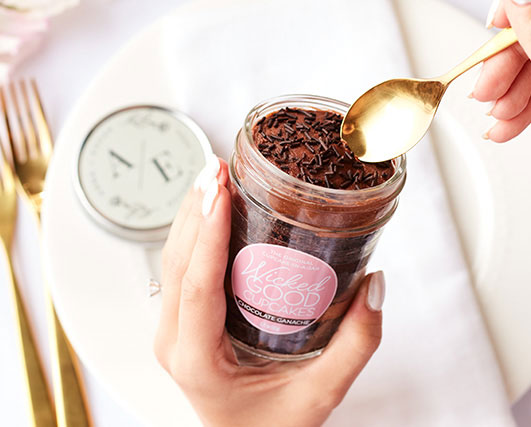 WEDDING CUPCAKES
Cupcake jars are perfect for wedding favors or on your dessert table. Customize the lid label with your favorite wedding colors, date, and names for a sweet touch.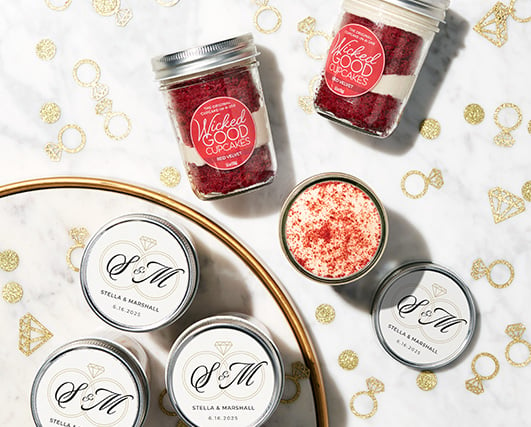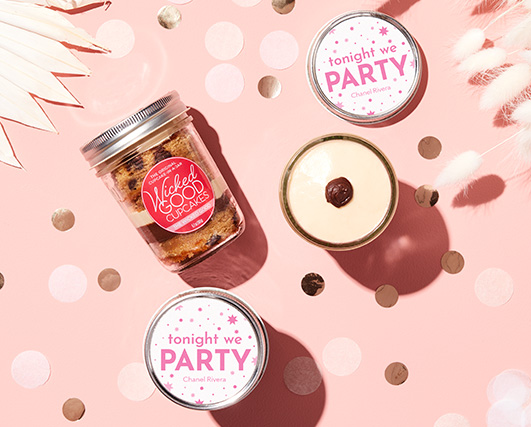 Parties
No matter what you're celebrating, no party is complete without dessert! Add a lid label to fit your theme for a special touch.
Showers
Shower the bride-to-be or mom-to-be with love on their special day! Our cupcake jars make the perfect mess-free dessert for any shower.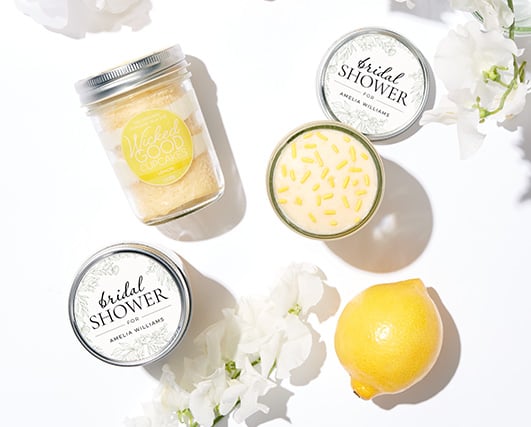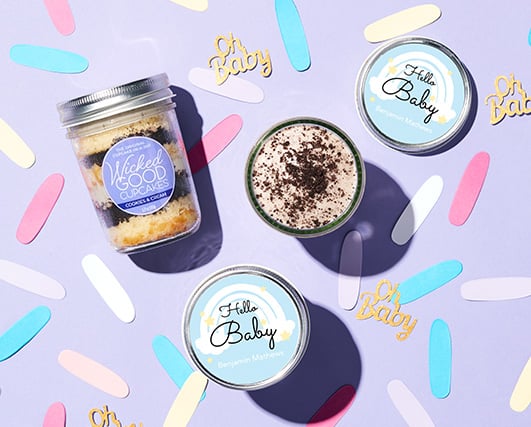 Connect with our cupcake coordinators
We're here to make every step of customizing and ordering your cupcakes stress-free. Customization costs are as low as $.50 per label. To get a personalized quote, contact us at 617.209.1039 or customerservice@wickedgoodcupcakes.com.
Customizable Designs
We have a suite of predesigned, customizable label templates to fit your event's theme and colors. Check out our designs and our Cupcake Coordinators can help bring your vision to life!
Wedding Cupcakes And Desserts
A wedding day is all about memorable, personal touches. Customized wedding cupcakes put a unique twist on the typical wedding cake tradition. Guests will talk about them for years to come! Our individually jarred wedding cupcakes help avoid mess, offer variety, are generally less expensive, and couples don't have to pay for cake servers—guests can help themselves! Best of all, you can customize the label design on the jar lids to fit your wedding theme!
Best Cupcake Flavors for Weddings
Choose from over 25 premium, hand-crafted wedding cupcake flavors and seasonal favorites that guests will love. There's something for everyone! You can match a few popular wedding cupcake flavors to the wedding theme or the couple's personalities.
But what are the best cupcake flavors for weddings?
Top bakers agree vanilla wedding cupcakes are a perfectly delicious blank canvas for complementary flavors. And for a whimsical, colorful wedding, Vanilla Sprinkle and Cookies & Cream Cupcakes would be playful choice that no one would call…well…vanilla.
For chocolate-loving couples, chocolate wedding cupcakes could be a mix of Chocolate Ganache Cupcake Jars, Chocolate Sprinkle Jars, and The Wicked Good Cupcake Jars. Does the couple love camping? Then S'more Cupcakes are a must, too!
For glamorous and romantic wedding receptions, the popular red velvet tiered wedding cake is neatly transformed into red velvet wedding cupcakes in attractive layers of traditional southern-style red velvet cake and cream cheese frosting.
Whatever flavors you choose, guests will love the unique balance of layered cake, frosting, and fillings in resealable jars.
Cupcakes as Wedding Favors
Free your creativity when it comes to wedding desserts and dessert tables. Cupcakes in jars make the best desserts for wedding receptions because they can be used in so many different ways. Stack the cupcake jars in a fancy dessert table display or let them pull double duty as budget-friendly table décor and wedding sweets all in one. Place a cupcake at each guest's table setting or stack them up into showstopping wedding table centerpieces that guests can really dig into.
Wedding Shower and Bridal Shower Cupcakes
Cupcakes in jars also make a smart choice for bridal shower desserts. They're easy for guests to eat while mingling—no extra dessert plates required.
You can order bridal shower cupcakes with custom lids that match the theme and fill a bridal shower dessert table. These wedding shower cupcakes can be the dessert, party favors, and part of the décor all in one!
Whether you need wedding shower cupcakes, engagement party cupcakes, or unique wedding cupcakes for the big day, we can't wait to help make your special day extra sweet.